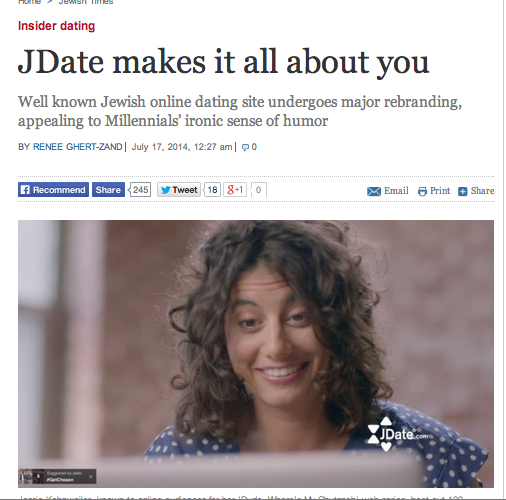 The final video ad relies the least on inside jokes, and thus has a broader appeal. In it, a young woman who has just moved to New York speaks with her parents back home on a video call. Although she has only been in her new home two days, her parents are already asking her if she has met any nice boys in her building, and if they are Jewish. "All we're asking for are grandchildren, darling," her father says.
The young woman is played by Jessie Kahnweiler, who is known to online audiences for her "Dude, Where's My Chutzpah" web series. She says she competed with some 100 other actresses for the role.
Kahnweiler, 29, personally related to the scenario depicted.
"I channeled every conversation I have had with my parents in that scene," she said jokingly. "Well, not really. They don't really pressure me like that."
She thinks JDate's rebranding is on target. "A lot of people are using humor in advertising. Our generation is super-ironic. It's hard to be schmaltzy with us," she observed. "We like to embrace stereotypes and poke fun at them."
Kahnweiler finds online dating to be "awesome," but also a lot of work. "[The commercial] speaks the truth. It is really challenging to balance your career and your parent's expectations," she said.
"They don't even have to be Jewish. Everybody feels like they have Jewish parents."
Read full article HERE