I loved talking to Nasty Gal about my life as an international supermodel. for booking inquiries contact 7eleven
READ full article HERE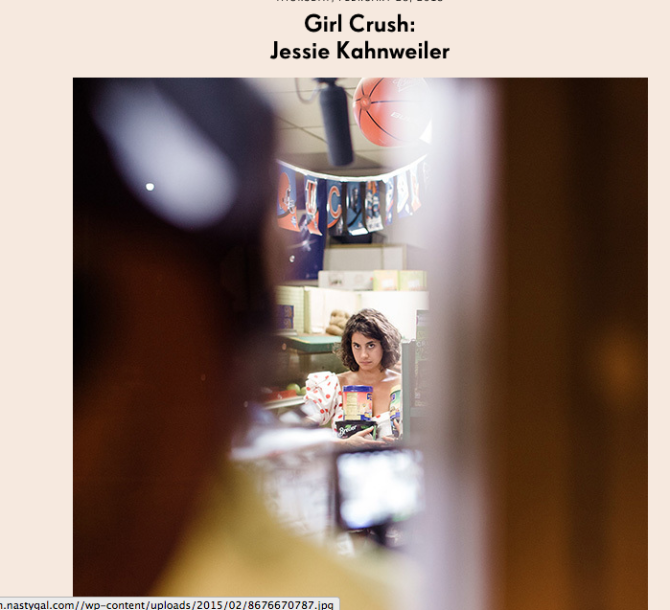 Jessie Kahnweiler doesn't mind talking about the tough stuff. In her brave and (surprisingly hilarious) new TV show The Skinny, she covers the touchy topic of eating disorders, something the L.A. comedian has dealt with first hand. In recognition of National Eating Disorders Awareness Week, Nasty Gal's deputy editor Jane Helpern sits down with Kahnweiler to discuss why it's not ok to talk about "sex and drugs and everything else, but not this unspoken issue that affects so many women."
Los Angeles-based comedian Jessie Kahnweiler is kind of our hero. No, not kind of—all the way. She's all the way our hero. We first took notice of the curly-haired Jewish goddess (who goes by @SheGotChutzpah, Yiddish for "She's got nerve," on Twitter and Insta) after she dared to go where very few comedians have ever successfully ventured—into the dark, twisty, and hard-to-navigate-even-with-a-bigass-flashlight caverns of rape comedy. Yup, you heard us. Rape comedy. Released in 2013, "Meet My Rapist" is a short dark comedy about an L.A. woman (Kahnweiler) bumping into her rapist at a farmer's market and trying to get on with life in the wake of what happened to her. It's a relatable, sad, fucked up, funny, incredibly hard to watch short that offers some previously invisible insight into the psyche of a strong-ass woman who refuses to let rape destroy or define her, and who's fighting back against her trauma with the stinging punch of a killer one-liner.
And now, just two years later, the brave and boundaryless Kahnweiler strikes again. This time stirring the pot with The Skinny, a provocative web series produced by Wifey TV (a feminist media project by Golden Globe-winning Transparentcreator Jill Soloway) about her longtime battle with Bulimia. "When I originally pitched it, everyone was like, 'What the fuck?' I was so naïve to think it would be different. But nobody in Hollywood wants to 'do' eating disorders. It's not cute or sexy." But she's not one to be silenced by a little Hollywood politics. Instead she took to Kickstarter to raise $10,000 for post-production (editing, color correction). "Doing the Kickstarter has been amazing, because it's so not about me," says Jessie. "Fine, the show's about me, but it's become a larger thing. It affects people, people are responding. And not because I have nice tits, but because people deal with this stuff everyday. We're all fighting against trying not to hurt ourselves with food or our bodies or whatever. And that's a really silent battle."
And it's exactly this hush-hush culture that Jessie Kahnweiler is hellbent on breaking with her fearlessly funny new project. Even though we're living in the heyday of feminist-centric media (see: GIRLS, Broad City, Rookie Mag, Obvious Child), eating disorders—specifically a potentially deadly and emotionally havoc-wreaking illness like Bulimia—remain an unspoken and therefore socially unacceptable disease, despite the fact that 25% of college-aged women engage in bingeing and purging as a weight management technique. "That it's in the media right now is so important because it's speaking to such a larger issue. And that's the hope. That people will start talking about it more. It's fucking insane to me that people don't talk about it. We talk about sex and drugs and everything else, but not this problem that affects so many women."
It's impossible to discuss eating disorders without also touching on body image, which inevitably leads to a conversation about the fashion industry and its complex role as both enemy and ally in all this. "I only wear vintage. I can't wear anything else. Vintage clothes celebrate my body in a way that's so real and true," gushes Kahnweiler. "When I put on a dress, I'm like, 'Why do strangers smile at me? Why do random people engage with me?' I know I'm outgoing, but I'm not fucking Giselle. And it's because of my clothes!" Even though women do obsess about their pant size, eating disorders are never really at their core about what the scale says. For Kahnweiler, hers was a way of trying to control her life and hide the "sad and ugly parts that I didn't want to show anyone." But embracing her playful personal style and finding clothes that make her feel beautiful has been a saving grace. "Of course I've had battles and tears in the dressing room, and days where I've put on clothes and felt that fat-attack, but I think clothes can be used to celebrate the body and the soul. I think more designers need to be doing that. Why can't we use fashion to help in the body revolution?"
To be on the frontlines with our girl Jessie Kahnweiler, donate to The Skinny's Kickstarter and follow her on Twitter.