Anti-Trump protesters fill streets across the US in fifth day of demonstrations against the President-elect
Donald Trump will be able to wield power with more freedom than almost any president in modern times, but he also faces an unparalleled wave of public opposition
Thousands of marchers took to the streets of New York, Los Angeles and Chicago on Saturday as protests continued across the US following the election of Donald Trump as president. At least 25 cities have seen major anti-Trump demonstrations in the five days since the controversial businessman's shock election victory.
The Republican, who defeated Democrat Hillary Clinton against the expectations of pollsters and pundits – not to mention the candidates themselves – has generated national opposition over his attacks on Mexican immigrants, Muslims, women and others.
In Los Angeles, protesters chanted slogans including "Her body, her choice", "Say it loud, say it clear: immigrants are welcome here" and "Can't build the wall, hands too small" – a reference to Mr Trump's proposal to erect a wall the length of the US-Mexican border.
Police estimated that 8,000 people took part in the march from MacArthur Park to the federal building in Downtown LA. On Friday night, almost 200 protesters had been arrested after refusing the LAPD's order to disperse amid reports of squad cars being spray painted and rocks being thrown at officers. Saturday's march passed off peacefully, however
Given his shifting opinions and vague policy proposals, it remains unclear precisely what Mr Trump plans to do with his presidency. A comfortably GOP-controlled Congress means he can wield power with more freedom than almost any president in modern times, but he also faces an unparalleled wave of opposition from the half of the electorate that did not vote for him.
Ru Dominguez, 52, an organiser with the labour union Unite Here who attended the LA march, said she and fellow union members were prepared to oppose his agenda at every turn. "We're going to stick together," she said. "Trump is a racist, he's ignorant, and he's not my president."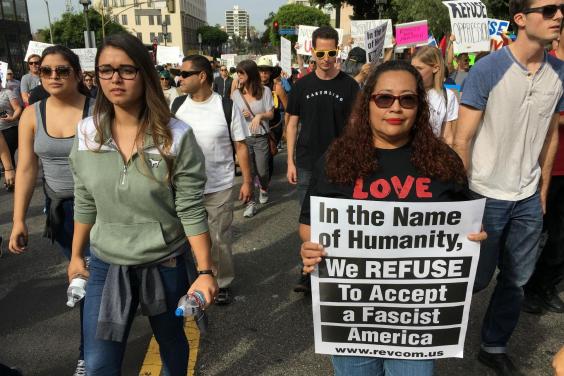 Since election day on Tuesday, more than 3.6 million people have signed a petition calling on the US electoral college to elect Ms Clinton president when they formally cast their ballots on 19 December, and pointing out that the Democrat won the popular vote.
The Former Secretary of State got more votes than any presidential candidate in history besides Barack Obama, and won the popular vote by a wider margin than John F Kennedy in 1960 or Richard Nixon in 1968, both of whom ended up in the White House.
In some states, electors are permitted to vote for a candidate other than the one selected by the majority of voters in their state, but for so-called "faithless electors" to overturn an election result is utterly without precedent and almost certainly out of the question.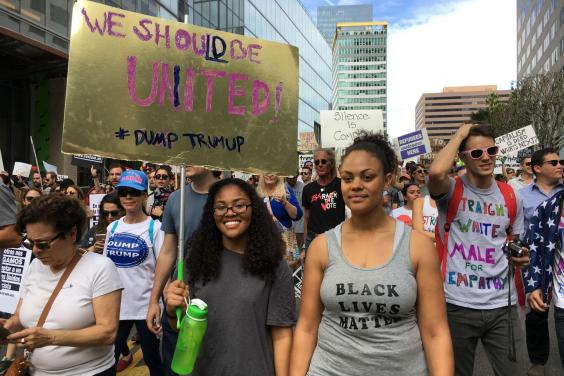 "The message is pretty clear: we don't want him as president," said 15-year-old protester Maria Dominguez. "The people wanted Hillary as president, and we didn't get that from the electoral college. So there's not much we can do but protest and make sure our voices are heard."
In New York, demonstrators walked from Union Square along 5th Avenue to the bottom of Central Park, where the President-elect's Trump Tower is located. One man said he had driven his family five hours from their home in Syracuse in upstate New York to send a message that they did not approve of Mr Trump.
A 25-year-old black man who asked to be identified only by his first name, James, said that the election of Mr Trump had already led to a wave of incidents of racial and sexist abuse and harassment.
He said that because Mr Trump was elected after using racist language and being filmed bragging about abusing women, people felt emboldened. "I don't think all Trump supporters are racist. I think a lot have lost their jobs and have fallen for his words," he said.
Carol Finneran and her sister, Kate, said they believed Mr Trump would attack civil liberties. She said that he and Mike Pence, his vice presidential running mate, were opposed to abortion. "I am here because I have a daughter. I want to say that women own their own bodies," she said.
The LA protest included an "organisation fair" for campaign groups to encourage marchers to join and remain politically active in future. "If you're really concerned, you have to be a participant in some active way," Ron Gochez, an organiser with Union del Barrio, told LAist.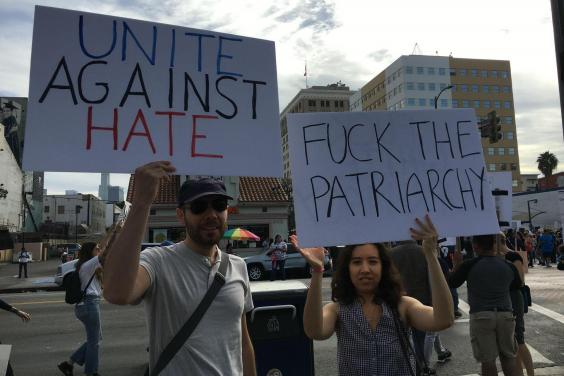 Demonstrator David Rowley said Mr Trump's victory had inspired him to get more involved in politics and activism. "We need to offset any negative things he does with positive things: support the American Civil Liberties Union, support Planned Parenthood, support any group that he appears to be attacking," said Mr Rowley, 39. "Our democracy isn't something you do every four years, it's something we do every single day."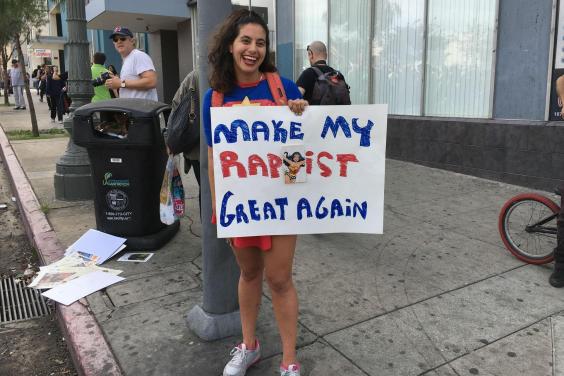 Comedy filmmaker Jessie Kahnweiler, 31, described the march as "part peaceful mobilisation and part therapy," adding: "My generation has been so privileged, we've never had to face this amount of hate before. I can't sleep at night knowing someone who assaulted so many women is president. Donald Trump doesn't realise that we're not just being sore losers; we're scared."